What's covered on the tapes?
Here's some basic info on the 12 videos, followed by a more detailed description from Bruce. Click on any title to move to the expanded area...

1. High-Speed Basics (92 min)
Efficiency secrets & equipment for precise & profitable decor.
Tips every balloon artist needs.

2. Murals, Logos & Sculptures (101 min)
Includes the duplet square pack, walls, framing, hearts, letters, numbers & supply estimating.

3. Exploding Balloons & Other Special Effects (70 min)
Distortion methods, exploding banners, working with foam board, balloon drops, & a host of surprises.

4. Making More Money (132 min)
Proven methods for marketing, selling & pricing balloon decor. A tape every business owner should watch.

5. Centerpieces Part A: Design (84 min)
Understand elements & apply tested design principles to improve arrangements & speed up the creative process.

6. Centerpieces Part B: Production (72 min)
Reduce arrangement labor with fast balloon (& floral) techniques, smart mechanics and the best equipment.

7. SDS, Topiaries & Foil Sculptures (75 min)
SDS efficiency tricks.
Large-scale topiary sculptures.
Rentable foil displays, & unique foil balloon shapes.

8. Lights, Animation & Amazing Drops (78 min)
Augment creations with movement and lighting.
Great new drops & releases from Australia and Japan.

9. Figure Tying - Part A (82 min)
With twister JODY BRAXTON
260 & 350 vending & decorating.
Step by step basic twists and simple projects.

10. Figure Tying - Part B (87 min)
With twister JODY BRAXTON
More 260 & 350 vending & decorating.
Intermediate to advanced figure tying sculptures.

11. Balloon People (111 min)
With JIM SKISTIMAS
Jim shares secrets for making lifelike sculptures from sculpted foam, foam board & balloons.

12. Balloons on Parade (80 Minutes)
With JIM & PAT SKISTIMAS
15 large moving sculptures.
Creation of floats for the annual Seattle Christmas parade.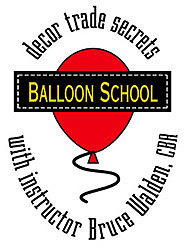 More Detailed Descriptions from Bruce:

Video #1 is called High-Speed Basics...
Maybe 80% of the work balloon companies do involves basic techniques – making bouquets, string of pearl arches, and packed garlands as columns, swags and arches. The faster you can work and the better the end product is, the more money you make... so this cassette is jam-packed with secrets for efficiency to create these basics precisely and profitably! I've traveled around the world teaching the simple steps shown on this tape, and found these are tips every balloon artist can benefit from.

Tape # 2 covers Murals, Logos & Sculptures...
It starts with methods for creating the alternating size square pack, and the versatile duplet square pack. Then it really takes off, showing you how to take the 3 primary garland forms and make simple backdrop walls and beautiful murals. Basic framing techniques are demonstrated and I share some great tips for getting your creations in proportion to make stunning hearts, letters, numbers, logos, and profitable simple sculptures.

#3 is a favorite for many: Exploding Balloons & Other Special Effects...
This tape covers an eclectic mix of techniques. Like how to distort balloons into great facial features for your sculptures. Tricks for working with foam board. Foolproof balloon drop systems. Exploding balloon drops and dissolving walls. And my all-time favorite special effect – exploding banners: where balloons magically pull up a hidden message on cue.

For the majority of balloon artists, Video #4 is the most needed. It's simply called Making More Money...
The longest tape of the series, it tackles the hardest aspects of running a balloon business. In it, I teach you proven methods for marketing, selling and especially pricing your balloon decor. This is a tape every business owner should watch. Mmm... maybe even more than once.

Those 4 videos make up the first set.


Tapes 5 and 6 cover deliverable arrangements, centerpieces, and buffet pieces. Specifically, number 5 covers Design...
I don't know about you, but for years I struggled designing arrangements that I really liked. I was creative, but quite honestly, I didn't have the knowledge needed to work efficiently. So, I went back to school – And through college art studies, floral design school, and the QBN program, I began to learn about the characteristics of the elements used in our work, and started to apply tested design principles. Wow, what a difference it made! So in this tape I'll teach you the information that will improve your arrangements & speed up the creative process.

Once you understand the concepts, tape 6 shares a host of Production secrets.
I've designed some better mechanics for our arrangements, and together with some techniques and equipment borrowed from the floral industry, this tape is guaranteed to reduce the amount of labor involved in your centerpieces and deliveries! Plus, some innovative trade secrets (like how to make fabric covered foil balloons that perfectly coordinate with the bridesmaids' dresses).

Video # 7 is called SDS, Topiaries & Foil Sculptures...
And that pretty much sums it up. The SDS panels can be great for creating wedding backdrops and corporate displays – but only if you know the tricks involved in filling them with balloons quickly. I'm probably best known for my giant topiary sculptures – like the Pinocchio marionette. So in this tape I teach my system for designing large 3-D sculptures, as well as some great new efficiency tricks for attaching the balloons to the framework. Tape 7 concludes with a discussion of how and when to use foil balloons for long-lasting and rentable displays. I'll even show you how to make your own special shape foil balloons!

The final tape of the second set is # 8 – Lights, Animation & Amazing Drops...
This video picks up where tape #3 on special effects left off. You'll learn how to augment your creations with both lighting and movement. I've especially concentrated on simple practical techniques that'll make your work stand out from your competitors. In my travels as an instructor I've been really lucky to have learned many new tricks. So in the final section of this video I show you 5 exciting new ways for creating balloon drops and releases... including the beautifully simple Australian drops for low ceilings, and the amazing quilted balloon drop techniques from Japan – where you can imbed a picture or logo right into the balloon drop!


Tapes 9 & 10 feature great twister and teacher Jody Braxton.
#9 Figure Tying - Part A ... features step-by-step 260 & 350 vending and decorating projects. Specifically, it covers basic inflation, tying, and twisting techniques, then moves into simple sculptures (weenie dog, arrows, dancing teddy bear, cat, a variety of flowers and baskets, swords, braided hearts, Jody's mace, fish, popular hats, and toys). Part A finishes with some intermediate sculptures suitable for decor (lobster, a cool new spaceship, a variety of figure tying garland techniques, plus both small and large palm trees).

#10 Figure Tying - Part B .... continues with larger and more advanced sculptures. It details the creation of many "cartoon" characters (Dalmatian, duck, yellow bird, bunny), Halloween (spider in web) and Christmas sculptures (Rudolph, adorable penguin family, Christmas tree, wreath & candles). It also covers balloon weaving basics (2 different top hats) and finishes with our working marionette that was recently featured in Balloon Magic magazine. Together, these two videos provide a comprehensive figure tying foundation.

Tapes 11 & 12 uncover the amazing secrets behind Jim & Pat Skistimas' work:
#11 Balloon People...
I learned a ton making this tape! Jim shares his unique techniques for making lifelike creations from sculpted Styrofoam, scored foam board, spray paints and, of course, balloons. This video shows the most advanced balloon distortion techniques in our industry up close - including Jim's "platform" distortion for facial features, and his cool "feather" technique used in many of their award-winning pieces. The former professional illustrator also teaches great fundamental principles of character proportion and design.

#12 Balloons on Parade...
This is probably the best tape in the entire series so far. It shows "behind the scenes" preparations for an entire "Rose Bowl" type holiday parade - but made of balloon floats! The making of 15 giant moving sculptures debuts some innovative techniques - including balloons inside fabric (way cool!), novel animation ideas, and the creation of huge complex frameworks. Plus, the tape has interviews with both Jim & Pat on their roles in the production, and fun "music video" type footage of the parade day. Don't miss it!